Dog parks are a great place to let pups run around, socialize, and have fun. The doggos have the opportunity to let out some extra energy and socialize with furry friends at the park. To ensure every dog park session goes well, there are some things you can do to keep the doggos safe and sound. We hope you'll find these tips helpful and enjoy your next dog park visit.
1. Assess The Environment
Some dogs are overly-energetic, some are shy, and some can be a little bit of both. Every dog has its own unique personality and sometimes personalities can clash. For example, one of our furry friends here at PCI, Boulder, was out for a walk. Boulder saw another dog who acted friendly and happy. However, as Boulder drew closer, the other dogs temperament changed to defensive. Luckily they were both leashed and neither pet was hurt. Before you let the pup loose at the dog park, you may want to consider observing the other dogs and seeing how they interact with one another. Another thing you want to assess are the gates and making sure they are intact. The last thing you want to deal with is chasing after a loose pup who found an exit point.
2. Keep Them Hydrated
Taking pups to the dog park is a great way for them to let out some energy and keep them fit. Regardless of the weather, you want to make sure they are staying hydrated and getting enough water in between breaks. For starters, you can bring a portable water bowl for the pups and bottled water. You may want to give the doggo water outside of the dog park so other dogs don't try to crowd around. We linked two portable water bowls for your benefit here and here. However, we recommend doing your own research and finding the best portable water bowl that works for you.
3. Don't Bring Treats
Pups get overly excited about treats and are happy to be rewarded for good behavior. Depending on the other dogs at the park, they can be aggressive and can fight over treats. You don't want pups to swarm over to you and try to get a bite of a tasty treat. You should consider leaving the treats in the car or keeping them with you in a pack. After a well-behaved session at the dog park, you can reward the pup once you leave or wait until you get into the car. This helps keep you and the pup safe from unwanted attention due to treats being in the picture.
4. Visit The Park At Non-peak Times
A crowded dog park can be distracting and it's no fun losing track of the pup in a huge crowd of dogs. You should consider visiting the park in the morning or evening before the work commute starts. One positive to visiting the dog park during non-peak times is having a lot of room for the doggo to run around. Plus, it'll be easier to keep track of the pup since there aren't many dogs around.
5. Manage Your Time
You don't want the pup you are caring for to go overboard at the dog park. Whether they are running or playing too hard, it can lead to overexhaustion and even injury. You don't want to return with an overly tired pup. Depending on the doggo's physical fitness, you may want to keep playtime between 30 mins to an hour. This time frame gives the pup a chance to let out any extra energy and still be up for the walk/drive home.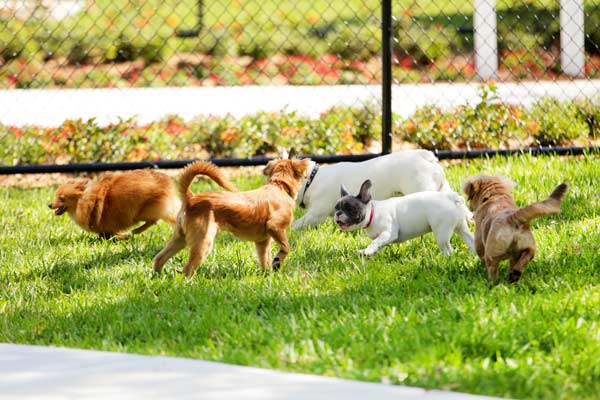 What Pet Business Insurance Can Do For You
Just like you want to keep the pups you are caring for safe from harm, Pet Care Insurance does the same for its clients and can do the same for you. Pets are known for getting into hairy situations like playing too rough with other dogs and it can sometimes lead to serious injuries. By protecting your business with pet business insurance, you can have peace of mind and know that your investment is protected. We've covered all sorts of claims and have been in the business long enough to know how to help you. We hope you'll consider PCI for your business insurance needs.
Buy Pet Business Insurance