Dog walking is a rewarding career to have because our cute fur friends are the most selfless and loving friends in the world—plus you get some exercise in along the way. There are many dog walking essentials out there that make your job easier and we wanted to highlight a few. Plus, we will include dog walking insurance as something you should have for your business. With everyone running the risk of dealing with an accident, dog walking insurance can give you peace of mind and a financial safety net.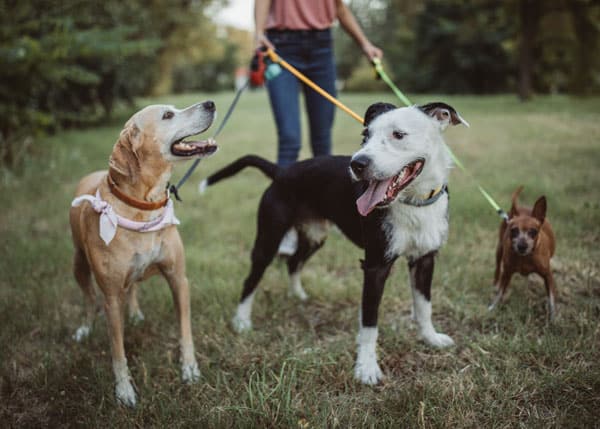 1. Pack
From treats to house keys, you tend to carry around several items while you're out and about with your fur friends. By carrying a pack with you on your walks, you can keep your dog walking essentials all in one secure place and don't have to worry about items falling out your pockets. For your consideration, we included some packs you may be interested in and encourage you to do further research to find the pack that works best for you.
Packs To Consider
There is a chance that you may lose your client's house key during your dog walking appointment and tensions could run high. PCI's dog walking insurance policy includes lost key liability coverage with a $2,000 limit and no deductible. Depending on the claim, PCI could help you manage the cost of installing new locks or having the building rekeyed by a locksmith.
2. Collapsible Water Dish
Summer is right around the corner and the temperature will start rising. Depending on the area of the country you live in, the temperature could be anywhere from 80 degrees to well over 100 degrees. During your dog walking appointments, you need to make sure that the doggos are well hydrated and that's where a collapsible water dish comes in handy. They are lightweight and super easy to transport.
If a doggo doesn't have a lot to drink, signs of dehydration include the following:
Panting

Dry Nose

Lethargic
Here are some collapsible water dishes to consider:
Collapsible Dog Bowl:

These dog bowls collapse easily and they can be attached to your gear with the included carabiner.

Travel Food/Water Bowl:

This water bowl zips up and includes a clip that can attach to a leash, belt, and more.

Foldable Water Bowl:

This product is easy to collapse and carry. It weighs less than one ounce and can clip anywhere!
3. Pet First Aid Kit
Accidents happen and no one is immune to them. Preparation is key and can possibly help out a doggo in need before going to the vet. This handy pet first aid kit includes latex gloves, first aid tape, gauze pads, antiseptic wipes, and bandages. It also includes a little carabiner that can attach to a backpack or leash. If the pup you are watching gets into a little accident during the walk, you could use these items to stabilize the wound and make sure they are comfortable.
Our dog walker insurance policy includes vet bill reimbursement for those types of instances. Depending on the injury, vet bills can get pretty expensive and that's a ruff expense to handle on your own. Vet bill reimbursement is designed to cover those vet expenses minus the deductible.
4. Leash Coupler
For some people, two dogs are better than one! If you work with clients who own two dogs, this leash coupler will work wonders for your business and keep you from being pulled into two different directions. Doggos are curious little creatures and always are on the lookout for something to smell. The coupler will keep the dog from getting tangled and the length can be adjusted. There are a variety of options available, such as this double leash option and this dog leash with a pouch.
5. Dog Walking Insurance
From doggos getting attacked to them biting in defense, the risks are real and you want to be prepared. Each dog owner you work with is trusting you with their fur baby and you don't want to let them down. By carrying dog walking insurance, you can protect your business from claims, such as injury, property damage, and legal action. Our online process is quick and our coverage is comprehensive. It includes general liability, animal bailee, vet bill reimbursement, lost key liability, and more. Plus, there aren't any association fees! We hope you will consider PCI for your dog walking insurance needs.
Learn more about dog walking insurance