It was a dark and stormy night when Fido went for his walk. There was something off about this walk. As he neared his favorite tree, something shuddered behind it. He carefully snuck up on it and CHOMP! He ate a poisonous Mushroom. Other than being in a panic and shocked about the ordeal, what's a dog walker to do? Luckily that's where dog walking insurance comes in and we're here to explain how it works.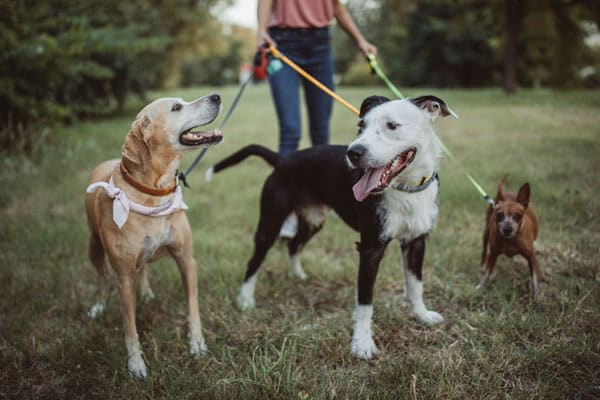 Dog Walking Insurance Coverages
At PCI, we care about our customers and understand the industry well enough to know what types of coverages to provide for our insureds. Our policy includes a wide range of coverages fit for your pet business. We broke down a few coverages for your information:
General Liability Coverage: This type of coverage responds to bodily injury and property damage claims you are legally held liable for. Depending on the situation, your policy could respond to the financial damages and you don't have to worry about the expensive strain a lawsuit could bring.
Animal Bailee Coverage: You bear legal responsibility for any injury that happens to a pet in your care and it can be ruff. Animal bailee coverage responds to injuries or damages sustained by an animal in your care.
Medical Expense Coverage: Accidents can occur on the job and medical expense coverage can respond to those instances. PCI's policy has a $5,000 limit.
Vet Expense Reimbursement: From an unwanted scratch to playing too hard at the park, veterinarians have seen it all. In the event you need to take the doggo to the vet's office, vet expense reimbursement is designed to cover medical expenses up to $1,000 per occurrence.
Lost Key Liability Coverage: The dog walking business requires carrying keys and you may lose one on the job. It could cost you between $100-$300 to pay a locksmith to rekey the home. Lost key liability coverage is designed to cover up to $2,000.
For our full list of coverages, you can find more information here.
Dog Walking Insurance Claims
While we hope every dog walking visit goes well, there are chances of accidents happening and it can be ruff. We've been in the business long enough to know that we've dealt with all sorts of ordeals with pups. Here are few claims:
An unsuspecting pup was just minding her business and a mean mutt bit her
Two dogs got into a fight and injuries were sustained
A doggo got a little overprotective of its surroundings and bit a passerby
A pup went out for its daily walk in the park and sprained its ankle
You protect your home and car with insurance. Why is your business any different? Pet Care Insurance is designed to be your financial safety net and can help you get clients too. By getting insured with dog walking insurance, you show your clients that you care about them and shows that you are a true professional. 30% of insureds have shared that having insured helps them with gaining clients. We hope this was helpful and hope you'll choose PCI for your dog walking insurance needs.
Buy Dog Walking Insurance