The great thing about your job is you have the opportunity to interact with different types of doggos. Some are very furry while others have a low maintenance look. You never know what an appointment will entail! Dog owners want to work with someone who is professional, experienced, and cares about the well-being of their fur babies. With insurance, you'll be able to show your clients that you're proactive and have coverage in place to keep their fur babies safe. Today, we are going to go over how pet grooming insurance is a business essential and why every groomer should obtain coverage.
Designed To Respond To Claims
Each appointment matters! What would you do if a doggo got hurt? We know how much you care about each furry client and don't want to worry about what can go wrong. If your furry friend gets hurt, you'll do what you can to help them and face the financial strain later. Veterinarian fees can get expensive and it can be stressful to handle. That's why it is important to prepare for those mishaps on the job. By obtaining insurance, you have a safety net and peace of mind.
Here's what fellow groomers have faced on the job:
Broken bones after a pet jumps or falls off the table
A dog experiencing an infection after their grooming appointment
A dog experiencing skin irritation caused by grooming techniques
A fight occurs between two dogs and both sustain serious injuries
Pet behavior varies and there's no way to control the outcome. Like people, they have different personalities and energy levels. One doggo might get too overly excited after a grooming appointment and one wrong move could land him at the vet's office. Every business will face one big or small claim depending on the severity. We hope it's something you never face, but there are no guarantees. We highly recommend being prepared with pet grooming insurance.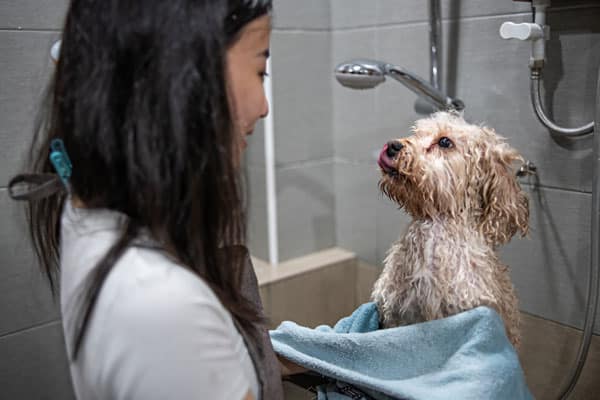 Carrying coverage shows you are responsible
No matter which industry you're in, there will always be risk and pet grooming is no different. From a doggo sustaining an injury during a grooming appointment to a dog experiencing an infection, the risks are very real.
One great thing you could do is create procedures and attempt to prevent these types of incidents from occurring. By creating these preventive procedures, clients see that you care about their fur babies. Unfortunately, it's hard to make sure every appointment runs smoothly. There are outside variables and human error to think about.
Let's say you accidentally cut too close to a doggo's skin and they start to bleed. The injury may send them to the veterinarian's office. After some time, the bill arrives and the client wants you to cover the charges. That might be hard to do as a small business owner. With pet grooming insurance, you can file a claim online and get some help from our claims adjuster.
30% of our insureds have reported that insurance helps them gain more clients. Obtaining liability insurance for your business shows your clients that you are responsible and they are working with a professional. Better yet, carrying coverage covers your exposures and gives your business a safety net to fall on.
Fit For Dog Groomers In Mind
At PCI, we've seen what groomers have come across, such as a doggo getting a little too excited over their new look and jumping off the station. In doing so, an injury is sustained and that type of claim can easily ruin your livelihood. You've worked really hard to build up your business. PCI created pet grooming insurance coverage fit for groomers that includes useful protections such as general liability, vet bill reimbursement, and animal bailee. Let's explain what these coverages can do for you below.
General Liability Coverage
General liability is base coverage that every groomer should obtain to protect themselves from exposures, such as lawsuits. By obtaining liability protection, you have a policy designed to respond to pay for injury or property damage claims you are legally obligated to pay for.
Veterinarian Bill Reimbursement
Veterinarian bill reimbursement is designed to respond to medical expenses an animal faces in your care, custody, or control. A doggo could accidentally choke on a treat or eat something out of the ordinary. By having pet grooming insurance, your policy may cover vet-related expenses and give you a financial safety net.
Pet Protection (Animal Bailee) Coverage
Animal bailee is designed to cover you if you are held legally liable for injuries or damages to an animal in your care, custody, or control. On top of that, mobile pet grooming is included and it doesn't cost an extra fee.
These are just a few of the coverages PCI offers. For more information on our policy, learn more here.
Coverage can grow with you
We are ready to go grow with you when the time is right! Our insureds are able to include a variety of coverages or increase limits in their pet grooming insurance policies, such as:
Pet Protection (Animal bailee) coverage: Insured can increase their limits up to $5,000 per occurrence/$10,000 aggregate or $10,000 per occurrence/$20,000 aggregate limit, or $15,000 per occurrence/$30,000 aggregate limit.
Broadened property damage coverage: This covers damage to personal property in your care, custody, and control. The limit of coverage is $10,000 per occurrence/$25,000 aggregate and could be useful for those on-site grooming appointments.
Employee dishonesty coverage: This type of coverage is designed to respond to financial loss or damage committed by an employee. The maximum limit provided by this endorsement is $10,000 per occurrence/$25,000 aggregate.
Other options include independent contractors coverage, pet daycare operations coverage, and more. You can easily update your policy through your customized PCI dashboard. We'll be here when you're ready to add additional layers of protection.
The Wrap Up
As a business owner, it's important to focus on what matters most and take your endeavor to new heights. You're always looking to identify improvements and make things better. By obtaining insurance, you have peace of mind that you are protecting your business from exposures faced every day on the job. We hope that you'll consider pet grooming insurance from PCI for your business!
Learn more about pet grooming insurance